1. Overview
Epstein syndrome is a congenital disorder caused by abnormalities in the MYH9 gene and an autosomal dominant hereditary disease characterized by macrothrombocytopenia, granulocyte inclusion bodies, progressive renal dysfunction (e.g., focal segmental glomerulosclerosis), sensorineural hearing loss, and cataract.
2. Cause
A heterozygous mutation in the MYH9 gene (22q13.1) is responsible for the onset of this disease. The mutations in 33 patients collected by a nationwide survey who underwent gene analysis is shown in the figure below (Figure 1).
Figure 1 The results of MYH9 gene analysis in Epstein syndrome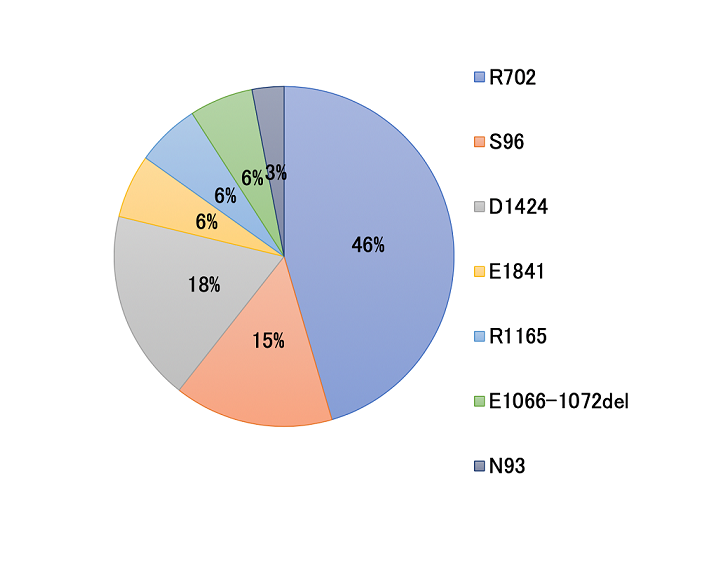 3. Symptoms
Mild hemorrhage (thrombopenia), progressive renal dysfunction, and high-tone sensorineural hearing loss are observed. Progressive renal dysfunction progresses in proportion to the progression of hearing loss. There are also rare cases of cataract.
4. Diagnostic criteria
A.Symptoms
Macrothrombocytopenia
Progressive renal dysfunction
Sensorineural hearing loss
Cataract
Note: Macrothrombocytopenia is observed since birth, whereas 2 and 3 develop at the age of 5 years or later.
B.Laboratory findings
Peripheral blood smear staining (abnormal localization of granulocyte myosin IIA protein)
Gene analysis (MYH9 gene)
Severest types: R702 mutation and S96 mutation
Moderate types: R1165 mutation, D1424 mutation, E1841 mutation, and Exon 24 mutation
<Diagnostic category>
Definite: Criterion 1 of A and both criteria of B are met.
* Our research group performs immunofluorescence staining of peripheral blood smear samples and gene analysis.
5. Severity classification and criteria for the judgment of designated intractable disease
Any of Stage II or higher macrothrombocytopenia based on the severity classification for idiopathic thrombocytopenic purpura, severe or profound hearing loss, and kidney condition categorized as "Red" in the CKD severity classification heat map is considered as a designated intractable disease.
<Macrothrombocytopenia>
Stage II or higher based on the severity classification for idiopathic thrombocytopenic purpura (Table 1).

Table 1 Severity classification for idiopathic thrombocytopenic purpura


*1 Subcutaneous bleeding: spotting, bruising, ecchymosis
*2 Mucosal bleeding: gingival hemorrhage, epistaxis, melena, hematuria, hypermenorrhea, etc.
*3 Serious bleeding: possibly life-threatening cerebral hemorrhage, severe gastrointestinal hemorrhage, etc.

<Sensorineural hearing loss>
Severe or profound hearing loss.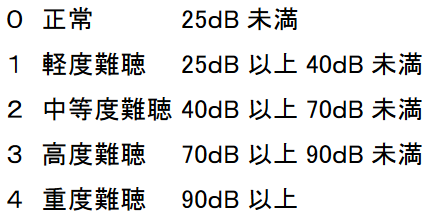 *Evaluated based on the mean values at 500 Hz, 1000 Hz, and 2000 Hz in the ear with better hearing (better-hearing ear).
<Progressive renal dysfunction>
Condition categorized as "Red" in the CKD severity classification heat map (Table 2).
Table 2 CKD severity classification heat map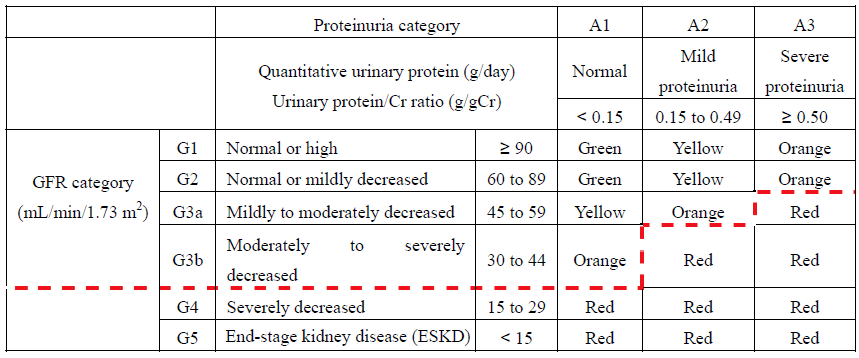 Points to be considered when applying the diagnostic criteria and severity classification
1. If there is no specific specification as per the diagnostic criteria, diagnosis can be made based on clinical symptoms, laboratory findings, etc. observed at any time (limited to clinical symptoms, etc. consistent with the clinical course of the disease and confirmable).
2. Severity classification after the initiation of treatment should be based on the worst condition, as judged by the physician, in the last 6 months of treatment under appropriate medical management.
3. Patients in whom the severity of symptoms does not meet or exceed the specified level based on the above severity classification but who need to continue expensive medical care are entitled to financial assistance for medical expenses.
6. Treatment
Treatments are symptomatic. Platelet transfusion should be considered for serious bleeding and surgery. If proteinuria appears, angiotensin receptor blockers may be effective, but how long the onset can be delayed is unknown. Because patients with Epstein syndrome have thrombopenia, if they progress to end-stage kidney disease, hemodialysis, peritoneal dialysis, or renal transplantation can be performed with platelet transfusion as necessary, without significant complication. Hearing aids are used and cochlear implant is indicated for patients with hearing loss.
7. Prognosis
Although the condition of thrombocytopenia does not change throughout life, proteinuria and renal dysfunction are progressive and often begin at school age or later, periodical follow-up appointments are necessary. There is an obvious correlation between the mutation site of the MYH9 gene and the speed of progression of renal dysfunction. In the cases of the R702 mutation and S96 mutation, the progression of renal dysfunction is fast, and kidney replacement treatment becomes necessary at around the age of 20 years in most patients (Table 3, Figure 2).
Table 3 Clinical features by the site of the MYH9 mutation

Data are shown as the median (interquartile range).
Figure 2 Kidney survival rate by the site of the MYH9 mutation